A walkway is a vital part of any scenic landscape, whether in your front or backyard. A walkway is undeniably inevitable, so make sure to make the most out of it.
An ideal walkway should both be aesthetically pleasing while remaining to be functional. You don't want a walkway that looks exquisitely good, but you'd trip over every time you walk on it. Conversely, a plain and straight walkway does not sound enticing.
Things to consider
Function
Of course, your walkway should be safe and efficient to walk on. You don't want an unnecessarily long one. A shorter and easier pathway is always a good idea. 
Not all homes are the same though. For instance, it's more challenging to come up with stable walkways in homes built on slopes. But generally, the goal is always to make your walkway as easy as possible to use.
Don't forget to consider elders or disabled individuals when designing your walkway. You may add stairs or steps too as walkways can get slippery when it rains. 
To emphasize safety, know that you can be sued for liability damages if anyone suffers from an accident on your walkway. Installing steps or stairs can decrease this risk significantly. 
Eye-opening scenery
A great scenery makes any walkway experience extra pleasing. You can opt to build your walkway in a curved path, like an "S" or a "Z" pattern with plants on the side. Another great idea is to build a walkway between rows of hedges or shrubs. You may also add some sculptures or stones along the way. If you can, you can be a little extra and put up a water fountain.
Placement
You should think about the placement of your walkway carefully because this is difficult to change once done. There are people who want to put their walkway in the middle of the yard to make it the center of attention while some want the walkway on the side to keep it low key. 
You should also consider what shape and direction you want. You can use a straight walkway or opt for an L- or S-shaped one.
Materials
Some of the materials that can be used are:
Concrete (found in most suburban homes and commercial buildings)
Wood
Stone
Plastic
Metal 
Vinyl
You can also mix and match different materials like limestone with wooden accents on the side. Some even polishes the material to beautifully reflect sunlight. A stamped concrete walkway can look like wood but with more strength. Wanna be extra fun? Add some LED lights too!
Stepping stones
You may add some stepping stones into your path provided that you ensure that they are strategically placed to promote a comfortable walking experience. 
Walkway designs
It won't hurt looking around for designs you might want. Here are some walkway ideas you can look into.
Nestled
Get yourself rows of shrubs, bushes, or hedges and put a walkway in between for that scenic and refreshing walk. This is especially great if you want your walkway to be the center of attention.
Stamped concrete
A relatively new trend is the stamped concrete where you can enjoy the wooden or brick look without compromising the durability and longevity of the build.
Border
Be extra creative and add plants, flowers, or rocks on the border of your walkway.
Boardwalk
This is created with planks built of real wood or wooden-looking concrete sealed for extra protection. This technique will give you the seaside boardwalk feel.
Wood and pebbles
A well-designed footpath with pebbles and weathered boards is framed by wildflower beds. This basic design appears to have been unearthed by mistake from the tangled growth, but it leads to a cozy spot to lounge within.
Modern Monochrome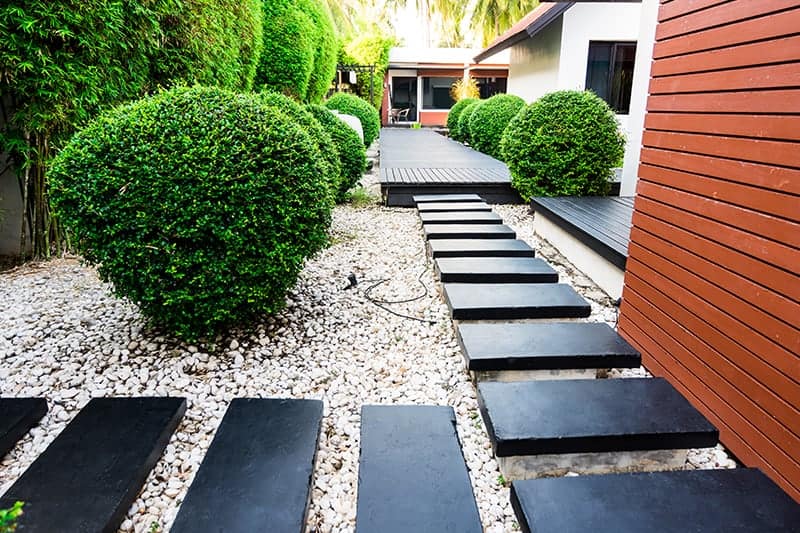 The stepping stones in this image have multiple aspects that create a huge statement, but you may use this as inspiration and imitate only one or two of them. The monochrome coloring has the most impact, as it contrasts sharply with the black stones laid against the white pebbles. This is a low-cost but eye-catching pattern that can be accomplished by simply painting your pavement slabs. The way the stepping stones are raised is another intriguing feature of this bridge. This encourages individuals to move from one stone to the next without standing on the stones beneath, preventing them from scattering.
Stepping stones
Spice it up using some stepping stones! You can simply put them in linearly or create some zigzag patterns. Large flagstone also works well.
On water
Solid pond foundations are ideal for creating garden borders as well as a spot to build a one-of-a-kind walkway. This is definitely a concept that requires a lot of forethought to ensure that the pond is well sealed and that the pathway base is stable and in place before filling the pond. However, the impact is breathtaking.
Textured Trail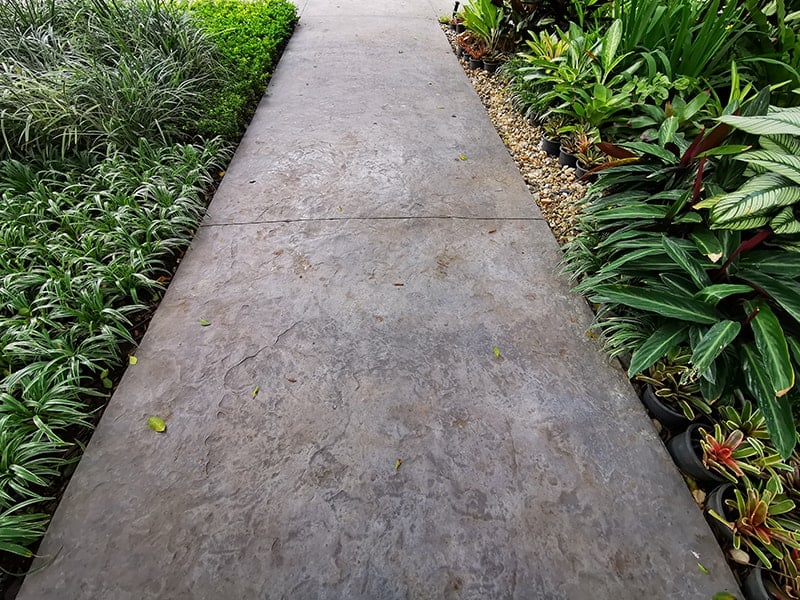 This walkway is made of concrete slabs that have been given a rough, almost mottled texture. There are various advantages to having a textured surface on your walkway, the most important of which is that it will be slip-resistant, which is especially crucial if you have youngsters who are prone to running and tumbling. This style of textured surface is beautiful in a natural and unpretentious way, as well as providing a safer walking surface. The mottled effect, which includes varying colors of grey and brown, also means that footprints and other marks will be less visible, so the route will look cleaner for longer without needing to be swept or washed on a regular basis.
Tree-lined walkway
Nothing like walking with trees surrounding you! There are various trees you can choose from depending on the feel you want your walkway to give off.
Lights
For added safety, you might want to install some lights. LED lights come in different colors and designs so the choice is all yours!
Garden
Put in beautiful plants and flowers around your walkway for that soothing feel. Who does not want gardens? Nobody!
Pebbles
If you're into pebbles, that's very much a great option too. Just don't forget to add some stepping stones if you don't want a walkway nobody uses.
Rails
If your walkway is somehow built on unsteady ground, installing rails will save you and your visitors from accidents. 
Pavers
For walkways with steep grounds, accidents may happen. For this, you'd want to consider adding steps or stairs to provide a safer environment.
Walkway Levels
Instead of a sloped pathway, you can add spread out stairs to help the walkway gradually increase or decrease in height if you have an uneven landscape. These levels will add a feature to the walkway while also improving its functioning. This specific pathway has bushes lining the path, which helps to form a barrier around the steps so that no one falls off the side of them accidently. The bushes also add to the path's structured character and give it a clean-cut finish.
Custom cement
If you want a unique walkway, you'd never go wrong with a custom-styled cement material! This is also a great way to reflect your personality through your home.
Mosaic Pebble
Some of the most stunning pathway ideas need either expensive materials or time-consuming expert installation, or both. A mosaic pebble pathway will surprise anyone who walks on it, and while pebbles are inexpensive, this type of route requires the installation of a competent artisan. Each one is a one-of-a-kind work of art.
Stamped patterns
If you're all for the geometric patterns, you can opt for stamped pathways!
Paved Patterns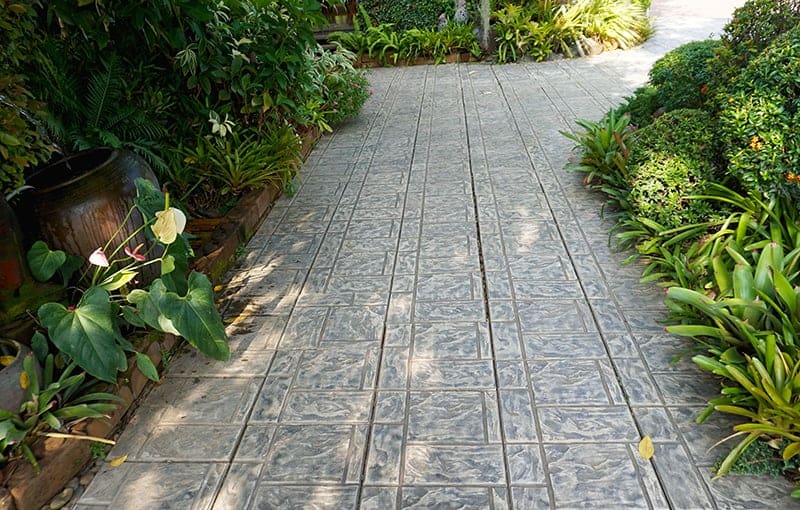 If you want a decorative patterned look on your walkway, you may choose from a large range of paving slabs, which normally come in square shapes and are easy to lay. Paving slabs are appealing because they may be used to create a complex pattern with reasonable simplicity. Paving slabs can be laid by anybody with a little DIY knowledge, making them an excellent alternative if you want to update the look of your walkway without spending a lot of money on a landscaper.
Wooden walkway
While a wooden walkway is not highly encouraged due to it being prone to rot and shape changes, it's still a unique option you can consider. As a workaround, you can opt to put this in a garden or your backyard since it can get pretty unstable.
Wood Slice
A walkway built of wood slices looks earthy and rustic. Simply place your slices on a bed of sand and allow nature to take its course.
Painted Planks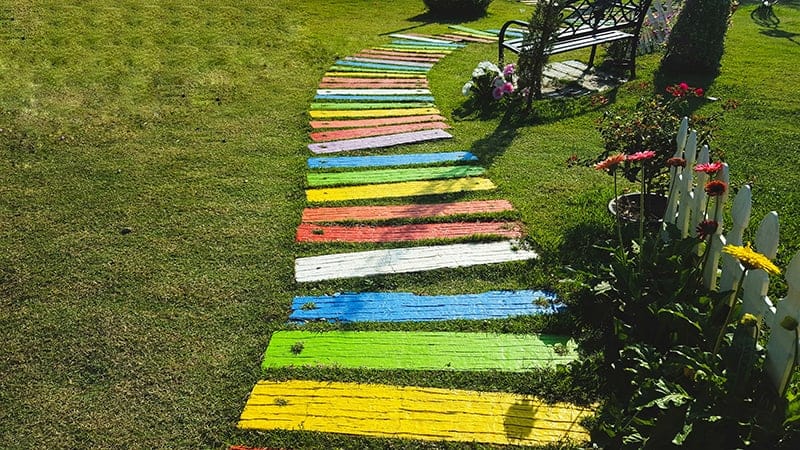 Laying down wooden planks throughout the lawn is a cheap and straightforward alternative for creating a new walkway on a tiny (or non-existent!) budget. If you have some pallets or an old bookcase that you can disassemble, you may make a free DIY walkway. Tuck the wooden planks into holes dug in the lawn in the same form as the planks. This pathway has opted for a vibrant rainbow look by painting their boards in different stunning hues, but you could choose a color theme that suits your garden design or utilize any unused paint in your garage.
Mossy walkway
A natural take is this mossy design. However, take note that moss grows and thickens in damp or rainy conditions so the overall look can change over time.
Chevron grass pavers
Concrete border pavers are not required for flower bed borders. Make them your own by being creative with their frequently interesting and curved shapes. These arching borders have been transformed into a promenade, complete with traffic-calming vegetation.
Checkers
For hours of fun, children's hopscotch boards alternate between a one and two box design. Using the same design, you can make an attractive walkway that also serves as a fun, permanent location for your children to play. Set them immediately into your lawn for easy upkeep and added appeal.
Retaining wall
A retaining wall can be a great accent to your walkway. It doesn't have to be all tall and towering. A short and dainty one can go so far!
Red Herringbone
This herringbone pattern was built using red bricks, creating a unique and elegant effect from something quite simple. This design must be correctly measured out and put with accuracy in it to work, since any bricks that are out of place will spoil the entire look. Because the color of the bricks contrasts nicely with the lawn, red may be an excellent choice if you want your route to stand out against the plants or grass that runs along each side.
Pillars
Pillars can be laid on the border of your walkway. You can choose from different materials such as wood, stone, or concrete.
Last words
Your walkway can say so much about you so you should look into different designs before you make your final decision. Ensure safety, functionality, and aesthetics and you'll be good to go!